Last week, I wrote about how old lady yoga kicked my ass. At the invitation of my mother-in-law, I went back to the same class today and this time, the class didn't necessarily kick my ass but it still smacked me in the face.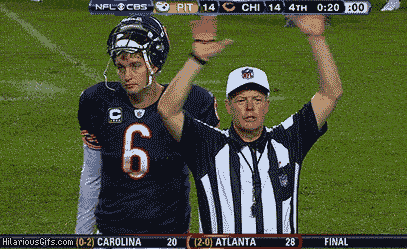 Can we all just take a moment to look at the smug smile on the ref's face?
Last week, I could feel right away that I was going to be incredibly sore and I definitely was--I spent a few days hobbling around which was interesting considering I have a baby and my home office is on the second floor of the house. Now, my muscles feel exhausted but not painful which feels good but the real test will be if I'm able to get out of bed tomorrow morning.
Overall, I feel like the class went well for me. We did five each of the A and B series and my plank pose didn't start to collapse until round 2 or 3 of the B series.
I will take whatever victory I can.
My mother-in-law told me that my warrior 1 looked great which made me feel really good since I felt so stiff going into class today. Apparently having my home office upstairs and needing to go up and down the stairs 30 times a day has been helping to give me some leg strength.
The most difficult pose for me was definitely downward facing dog. I felt almost homicidal as a result of my legs and my shoulders aching but, as the yoga instructor said, downward facing dog is a great diagnostic pose and I fully agree. My need for the pose is directly proportional to how much rage I feel while doing it.
Look, science agrees with me.
Overall, I'm glad I went. I like going to this particular class and I'm hoping to go more in the future. Perhaps by the next time I go, I'll actually enjoy downward facing dog.
Or not.